I never knew much about brunch until I moved to Brooklyn. I had seen shows about it on the Food Network, and heard friends talk about having brunch here and there – but it never crossed my mind to go out on a Sunday morning for some food and drinks.
And then my good friend Bob suggested that we have brunch in the Lower East Side of Manhattan. Bob's been a large influence in my newfound foodieness – most of the new foods I've tried have been with him! He's a great friend and amusingly we met each other at my old job. He was one of our regular customers and we kept in touch when I switched jobs.
So it was decided that on this particular Sunday we'd go to
Tapeo29
– a nice restaurant in the Lower East Side on Clinton Street.
This place looks amazing. The large bar dominates most of the restaurant, but there's plenty of seating on the side next to the open walls, so it's fresh and sunny as well! The crowd wasn't large and everyone seemed in good spirits, including the staff.
Their brunch special includes a large array of items, served with home fries or salad and two drinks of your choice (screwdriver, mimosa or bloody mary).
I'm a chorizo addict – I admit it. I had never tried them or cooked with them before about a year ago, and once I did I was hooked! The taste of it is just perfect with eggs, on pizza, mixed with anything! I could go on and on about chorizo...but this is a review and not a chorizo-induced rant.
So Chorizo al Vino was ordered – that's chorizo glazed in a red wine sauce. It was delicious! I could just eat them all day. The wine sauce had a hint of cinnamon in it that played perfectly with the spiciness of the chorizo. It was the perfect size to share between two people – even chorizo lovers like us!
Next up was the main event of brunch: omelettes! I always have the most difficult time ordering these because I generally don't like cheese. And I
especially
don't like cheese with my eggs. Luckily they have three egg omelettes with two add-ons of your choice, which can include: spinach, scallions, bell peppers, sausage, sun-dried tomatoes, bacon, an array of cheeses and a few more things. This was right up my alley, so I ordered one with sausage and bell peppers.
The eggs were cooked perfectly – not runny like I've gotten far too many times at other places. I ordered crispy home fries on the side. Needless to say, my plate was cleaned off in a small amount of time.
Afterwards we sat around, chit chatting and having $5 pitchers of screwdrivers! $5! I know!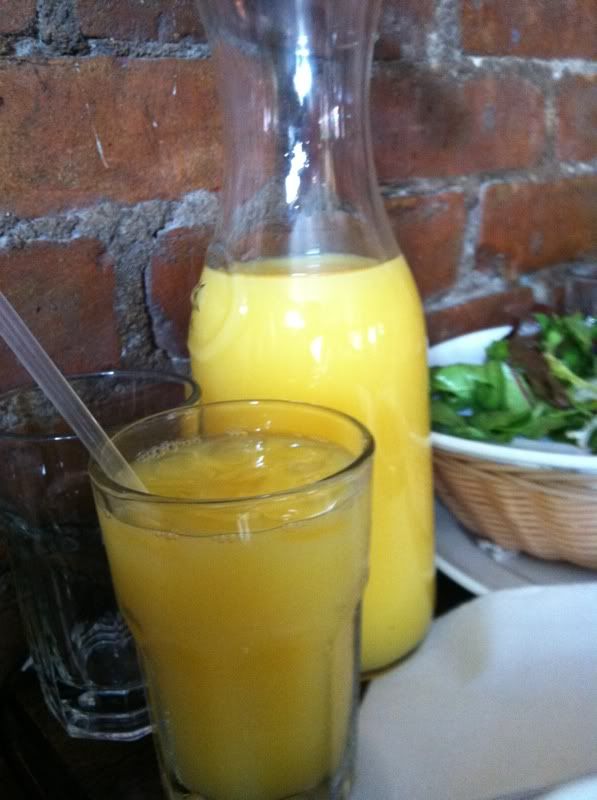 The bartender knew how to make a great strong drink that wasn't too strong for it being so early in the day. The wait staff was incredibly friendly and were very prompt with whatever we needed.
Also, and this really is worth mentioning, their bathroom is
swank
. I mean when I say swank, it's swank. Incredibly clean and well-kept, it really has it's own mood. Behind a black curtain and through a door is a darkly painted oasis with beautiful sinks and candles as the sole source of lighting. It's amazing.
All in all we had a great time here. The place was easy to get to (from Brooklyn), there was a good crowd and in general it was just a lovely atmosphere. The food was delicious, and I can't wait to try a tapas the next time we go!
And now I'm hungry for chorizo. Yum!