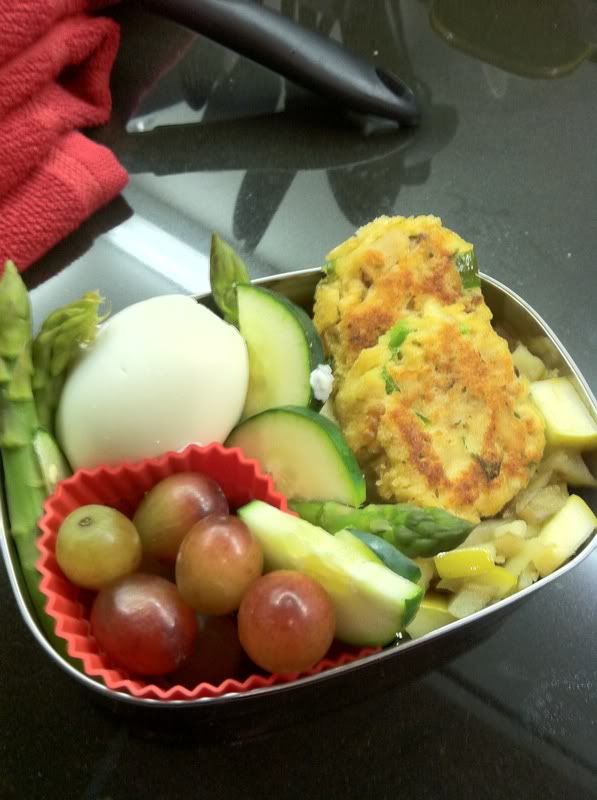 Only one picture of this bento: I was tired!
I had been cooking for a friend lately (he was my guinea pig!) and he wanted crab cakes. I dislike crab meat, so I decided to make the same recipe with canned tuna instead!
All I did was put a two cans of tuna (I made a lot) in a bowl, mixed in some mayo, jalapeno pepper, scallions, a whole egg, salt, pepper, parsley and then mixed in some panko and crushed ritz crackers. They were delicious! And so easy! I just threw them into a sautee pan until they browned up and they were ready to eat.
On the bottom of the tuna cakes is a potato and apple hash I tossed together. I just put in some thinly chopped red potatoes with salt and pepper, cooked that until it got a bit brown, and added in some chopped granny smith apples until they got soft and presto: my version of a simple potato and apple hash.
The rest is pretty self-explanatory: blanched asparagus, cucumber, some grapes and a hard boiled egg.
This bento was just really leftovers from the dinner I made my friend and myself, and I was able to prepare it the night before so I could sleep a few extra minutes that morning! Hope you enjoyed!